Foxwoods
A Grand Hotel & Grand Casino
Foxwoods
Mashantucket, CT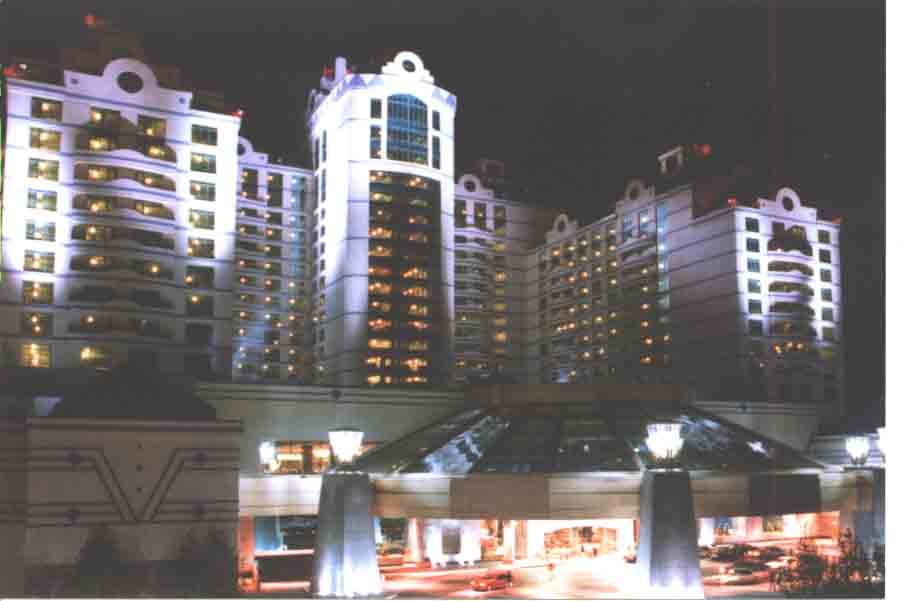 View from Our Room - 1

View from Our Room - 2

View from Our Room - 3

Room view - 1

Room view - 2

Room view - 3

Room view - 4

Main Concourse - Casino Level

Pequat Casino Entrance

Indian Sculpture - Lower level

Escalator to Casino Level

Sunset from our room

View from window

View from window

Concourse View

Casino Entrance in Grand Cedars

Concourse View - 2

Indian Sculpture - 2

JoAnne

Indian sculpture - 2

Pequat Indian Museum

Concourse Entertainment

Indian Scuplture - 3
Main Lobby Grand Cedars

Main Lobby Grand Cedars

Waterfall - Grande Cedars Lobby

Rain Maker sculpture

The Outside

JoAnne at another waterfall display

The Rain Maker - another view

The Rain Maker - another view


Impression of Foxwoods
Having first gone to Mohegan Sun, we tried to anticipate what Foxwoods would be like. I'm not sure if we had gone to Foxwoods would be have gone to Mohegan Sun at all. I don't mean to sound all that negative, but the two resorts do leave one with a different feeling.

Foxwoods it BIG! There is no doubt about it. Supposedly it is the biggest casino in the country, if not in the world. Believe it! There are a number of hotels within the complex and one off-site. We chose to stay at the Grand Cedars hotel. The Grand Cedars is attached to the Pequot Towers hotel which is just as immense as the Grand Cedars.

First impressions usually are pretty significant of what one can expect. Our first impression should have forwarned us. Upon driving up to the hotel and exiting the vehicle, the valets made no effort to help with the baggage or offer to call a bellman over to take our luggage to the hotel lobby. In fact one of their "green-jacketed" staff was at the front door, and he too made to offer to help. Needless to say we lugged our own luggage to the counter. I, of course, made that known to the clerk for which I was given the "typical" apology and immediately called for a bellman to handle our luggage to our room. I then discovered, as I was completing the registration, that I had forgotten my regular glasses in the car which had already been on its way to the garage. JoAnne went over to the parking valet to see if the car could be brought around or could they just get the glasses. They were very understanding and did have the car brought back up. While I was waiting for the car, JoAnne was escorted with the bellman to our room. JoAnne said that he was most pleasant and suggested several things we might do being as we were "first timers" and not gamblers.

The room as Foxwoods was, by comparison to Mohegan Sun larger and more decorative and just as clean. It, too, had the standard amenities; but lacked a in-room safe, and coffee-maker, bar, iron and ironing board. It used the regular door-knob signs for DO NOT DISTURB and MAKE UP ROOM. Didn't understand why there was no coffee-maker or in-room bar.

The complex at Foxwoods is immense. It's as though you are walking in a MALL. There are eateries, a movie theatre, nite-clubs, shops and lounges. There is plenty to do if you don't like the casinos.

We did get a chance to check out the casinos and even play at the gaming tables this time. The slots are the typical ones you normally see. Foxwoods also has $.05 machines. You know we spent some time there. And we did fairly well. We even were up quite a bit on the $.25 machines. There were two machines that I hit 150 quarters on one, and 72 quarters on another after only having put in three or four dollars worth. So we were ahead. Unfortunately, the bug gets to you and before you know it, you've put the money back in.

We did try our luck at a gaming table called "war". That was fun!! First time I played, it was just me...JoAnne sat that one out. Well, I walked away up $10. But it was fun...no pressure, no thinking. The next day both JoAnne and I sat at the table and she walked away up $13.00 and I walked about with a BEN FRANKLIN...I was giddy all night!! It was a thrill.

We did get a chance to check out the casino on the 26th floor of the Peqout Hotel. When we walked in we were greeted by a guy in a tuxedo and immediately, nicely though, told this was a "high roller" casino with the minimum bet of $250. We acknowledged that we were first time guests to which he replied that we were welcomed in any casino. However, there was just that "air" in his voice that made you feel uncomfortable. In any event we just walked around. If there were 6 players in the casino that was a lot!!

There are plenty of restaurants and lounges to eat and imbibe. We did try Al Dente's. It was great, if I must admit. Very nice and fancy of a place. We also tried the Veranda Cafe which was nice and casual.

For a little bit of fun we entertained ourselves by taking in there "movie ride". This was similar to the ride you might find at Univeral..."BACK TO THE FUTURE." It was fun, and something to kill the time away from the casino.

Despite the overall good time we had at Foxwoods, there was just air of commercialism that was not true of Mohegan Sun. Foxwoods personnel didn't seem to go out of their way to make you feel welcomed. Very few "hello's" by any of the staff. In fact we had signed up for the Wampum Card (Player's card at other casinos), and I was unsure of when using it what the "countdown" meant on the display at the slots. I spoke to one of the Wampum Staff and asked some questions about the card and use, and was treated as if I was overburdening the person. The responses I was receiving to my questions bordered on rudeness. Needless to say I made mention of that in the survey.

The biggest complaint we had with Foxwoods was the temperature in the main areas of the MALL. As you walked about...you froze. We couldn't believe how cold it was. It was not surprising to see many, many people walking about with outer coats on!! Amazing. So if you go, bring a coat.

The other disappointing feature were the pools. The pool in the Grand Cedars is small and is located right off the lobby. This meant since we were on the 7th floor, you would have to go down to the lobby and walk throught the lobby to get to the pool. If you wanted to use the pool in the Pequot Towers, which is really nice (set in a Roman style motif), and were in the Grand Cedars Hotel, you would have to walk the MALL area to the Peqout Towers elevators and get to the third floor....and all this in your bathing suits!! You could, of course, "rent a locker" and bring your swimming stuff with you. Another fee!!

Foxwoods is nice, big and a fun place. It's just not as warm and friendly as Mohegan Sun. We'll probably go back to Foxwoods, but this time a little more prepared.

Mohegan Sun photos and impressions.